In this review about the aliexpress affiliate program, i will be going over the WordPress plugin Aliplugin developed by Vitaly Kunin and launched by Ali Partnership Company.
Aliplugin is the type of plugin that can be easily added to your WordPress site.  It help you import and promote products from the Aliexpress.com website and profit from the Aliexpress affiliate program. Aliplugin can help you make some easy commissions from each sell you refer. Whether you are a pro marketer or you just join the exciting world of making money online and online marketing for the first time. AliPlugin is one of the perfect choices you can make!
As mentioned, Aliplugin is a WordPress plugin allowing you to easily find the desired products from AliExpress an Award-Winning International Trade Site and import them quickly and easily to your AliExpress affiliate website.
A nice little trick you can make is to host your AliExpress affiliate website on HostArmada, HostArmada is the fastest and easyest webhosting I know.
I've been using it for 2 years now and they're really good. My website is very fast, costumer sevice it excelent, live chat support is nearlly instant. Tickets get solved in 30 minutes or so. Things don't go wrong but it if I need help with something, support is great. I made a post about that on my blog a while back here.
1 – Aliexpress Affiliate Registration  
First, you will need to have an account on one of the following AliExpress affiliate programs manager Admitad, ePN or the AliExpress Portals.  
The Aliexpress affiliate program is one of the best affiliate program to make money online. Good news it is more easy to join the Aliexpress affiliate program through Admitad.
To join this program all you have to do is to visit the Admitad site and you can sign up for a free account. you will need to include your name and contact information and there is no charge for this. This will allow you to have access to several affiliate programs. Look for Aliexpress and select this program to join.
When you signs up for Admitad you will also be given a unique user name .
To join the Aliexpress program you will go to the Admitad dashboard and you will go to the program feature. you will then go to my programs and click on the Aliexpress affiliate program and then click on the banners and links feature. They will use your affiliate id and put it in your affiliate link. This will be your default link and since it contains the user ID you will get credit for using this link and any sales that you make. 
You can also use the Chrome extension provided by Admitad to generate short affiliate links for any product you like on Aliexpress and begin posting and sharing them right away on your social media accounts or any where you want. Since your unique Id will be attached automatically to them.
You will get credit and will receive payment every time a customer places an order using your links. which will allow you to make good affiliate commissions online.
ePN (eCommerce partners network) provides affiliates links through which one can registers as a webmaster. To register, you need to install AliPlugin in your device. Open the software then go to general settings and select the ePN AliExpress and click Register Now. It will redirect you to ePN where you will click "Registration" and then choose "Webmaster" afterwards fill in your details.
After signing in, navigate to the "Tools" section and click on the "Get Affiliate Link" button in the DeepLink section. Check that the link goes to aliexpress.com. The affiliate link that you need to use in the plugin's settings will automatically be generated for you. The link to your partner program will appear after you've entered the plugin setting URL. Once approved by AliExpress, you'll be able to send traffic to your chosen advertisers and begin earning from your customers. ePN's support is available via email, and they respond within one day.
ePN provide also a Chrome extension allowing you to generate affiliate links for any product you choose on Aliexpress directly from the browser.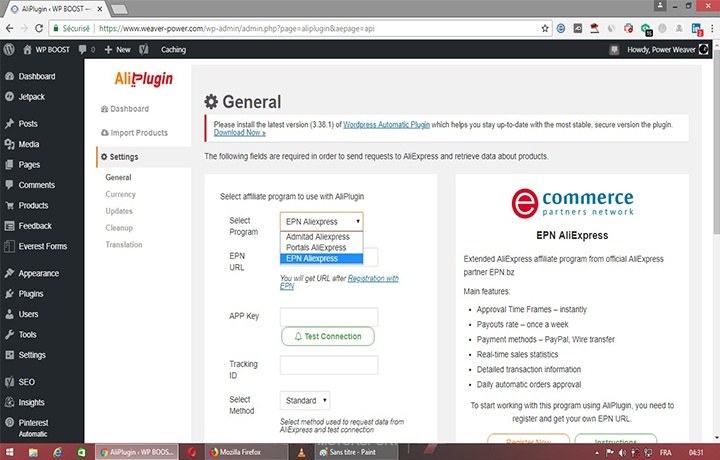 To setting up your Aliplugin correctly, you will need the the API key and the traking ID which you will found on your AliExpress affiliate portal. This two information will allows the plugin to automatically place you affiliate Id on each of the AliExpress products links imported to your website.
Aliplugin will Build your niche websites in minutes even if you have no experience at all.  Aliplugin come also with a complete range of responsive design themes included.
2- Aliplugin setting by the NameHero CEO:
I added below for you the best video tutorial I found to help you build  an amazing AliExpress affiliate website.
The video is made by the CEO of NameHero himself, you can found huge value in this detailed tutorial.   
Click here to get started with NameHero
Here is the part 2 of the video above on how to make money with AliExpress Affiliate program and how to setting up the AliPlugin
You can easily customize their appearance to suit your own taste. AliPlugin is the great alternative to the other plugins out there that work with Amazon and eBay. Aliplugin import the chosen products from AliExpress with all the related images and details and endorsing them on your AliExpress affiliate website.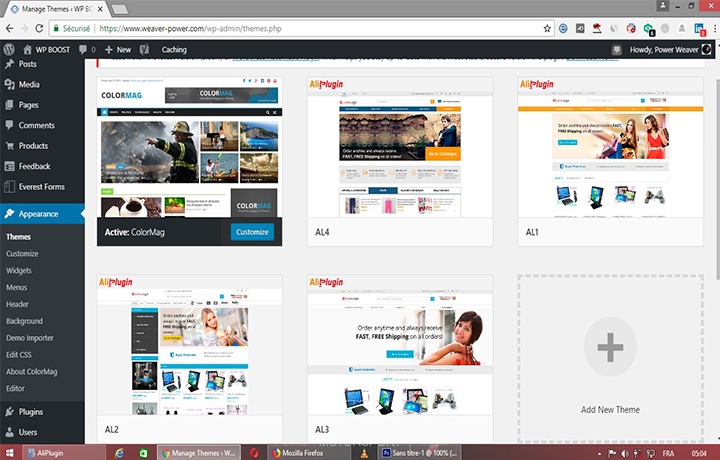 3 – Aliplugin Commission
Aliplugin makes it easy for every AliExpress affiliate to earn huge money simply by referring regular sales to AliExpress.  The program offers a 8% commission on every sale made through your affiliate links.
4 – Aliplugin Update
Aliplugin can be updated from the WordPress dashboard with a couple of mouse clicks, the updates are available on an ongoing basis to keep the software up to date. AliPlugin can also constantly update your list of products at any time you want from the provided menu. 
Finally,
The combination between Aliplugin and HostArmada is a nice little trick that will allow you to create an amazing AliExpress affiliate website and make some easy affiliate sales while growing your business.
HostArmada provide the fatest speed load for your website which will help you rank in google and capture the attention of your visitors and Aliplugin provide the easyest solution to manage your affiliate links and to give a good looking to your website. 
Click here to get started with NameHero
Wish you a high CTR! To your success!
What did you think? Have you had any experience with NameHero? or Aliexpress affiliate program? Do you have anything to share with us? Please leave me a comment, I would love to hear from you.